YERMO –  Travel back in time with a beard and mustache contest, gunfight shows and pony rides, this weekend, at Calico Ghost Town's 2nd annual California Days event. California Days celebrates the state's early history with a focus on California's admission to the union on Sept. 9, 1850.
Calico Ghost Town History
Located three miles from Barstow, Calico was founded in 1881 as a silver mining town.  The Silver King Mine, named after John C. King, was California's largest silver producer in the mid-1880s. A post office, weekly newspaper, three hotels, five general stores, meat market, bars, three restaurants and boarding houses were established. At its height of silver production during 1883 and 1885, Calico had over 500 mines and a population of 1,200 people.
In 1890, the Silver Purchase Act was enacted and drove down the price of silver. By 1896, its value had decreased to $0.57 per troy ounce, and Calico's silver mines were no longer economically viable. By the turn of the century, Calico was a ghost town. In 1951, King's nephew, Walter Knott – founder of Knott's Berry Farm, purchased the town of Calico from the Zenda Mining Company and restored it to its original condition.
In 2005, Governor Arnold Schwarzenegger recognized Calico as California Historical Landmark #782 and proclaimed it California's Silver Rush Ghost Town.
California Days
California Days precedes National California Day, which lands on February 22 every year. Calico Ghost Town is hosting family activities and educational displays on the state's Bear Flag, Pony Express Trail, and Butterfield Overland Trail to celebrate the people and culture of early California.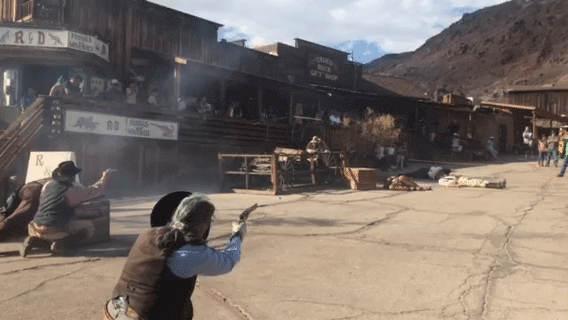 Mining event sponsor Apollo Silver Corp., who announced Tuesday, gold findings at their Calico Drilling project will be on-hand to provide educational mining information and displays. CalPortland Company, Mitsubishi Cement Corporation and Equinox Gold are other event sponsors who will also have information for the family this weekend.
RELATED: Apollo Silver Corp announces first drill results — gold and silver!
The Calico Restaurant, Old Miner's Café and Lil's Saloon will be open and serving pretzels, lemonade, and tater tot creations. Raising Cane's Chicken Fingers from Barstow will also be on-hand giving away prizes.
Calico Ghost Town is located off I-15 at Ghost Town Road in Yermo, just 10 miles north of Barstow at 36600 Ghost Town Road, Yermo, CA 92398. For California Days, the park will be open from 9 a.m. to 5 p.m. on February 18 – 19, 2023. Prices are $10 per adult, $5 children ages 4-11, and 3 years and under are free. For more information visit https://parks.sbcounty.gov/calico-california-days/