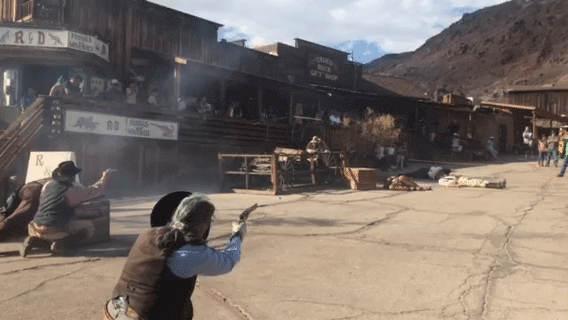 YERMO – A frying pan toss contest, gunfighter show and music from the Blacksmith Boys are some of the activities taking place this Saturday and Sunday at Calico Ghost Town's 55th Calico Days annual event. The festival is a two-day commemoration that celebrates the history of California's Silver Rush and Calico Ghost Town's mining past and historical significance.
Located three miles from Barstow, Calico was founded in 1881 as a silver mining town.  The Silver King Mine, named after John C. King, was California's largest silver producer in the mid-1880s. A post office, weekly newspaper, three hotels, five general stores, meat market, bars, three restaurants and boarding houses were established. At its height of silver production during 1883 and 1885, Calico had over 500 mines and a population of 1,200 people.
In 1890, the Silver Purchase Act was enacted and drove down the price of silver. By 1896, its value had decreased to $0.57 per troy ounce, and Calico's silver mines were no longer economically viable. By the turn of the century, Calico was a ghost town. In 1951, King's nephew, Walter Knott – founder of Knott's Berry Farm,  purchased the town of Calico from the Zenda Mining Company and restored it to its original condition.
In 2005, Governor Arnold Schwarzenegger recognized Calico as California Historical Landmark #782 and proclaimed it California's Silver Rush Ghost Town.
RELATED: Calico introduces washboard music to kids
The Calico Days weekend festival brings the past to life with a re-enactment of Old West living history encampments, classroom sessions, and how to stake claims with its the Burro Run Contest. Other activities include costume, pie-eating and bucket brigade contests. Families can also pan for gold, make a candle or an adobe brick.
The Calico shops and eateries will be open during the festival.
Event Info
Calico Days
Address:      Calico Ghost Town
                   36600 Ghost Town Road


                   Yermo, CA 92398

Dates:          September 24, 2022




                   September 25, 2022

Time:           9:00 a.m. to 5 p.m.

Admission:   Adults (12 & over): $10
                   Youth (ages 4-11): $5


                   Ages 3 and under: Free admission
For more information about Calico Days and the event schedule visit https://parks.sbcounty.gov/calico-days/