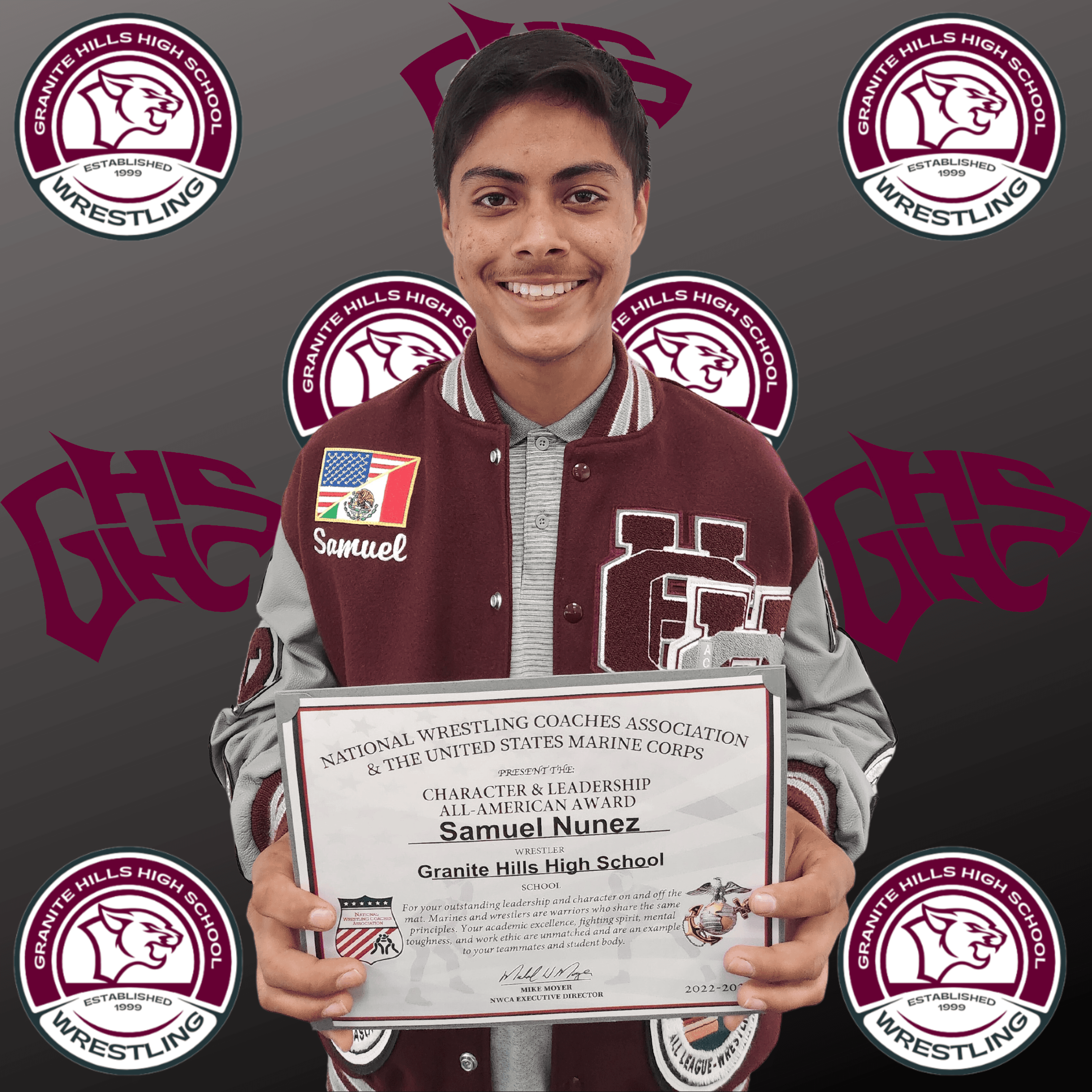 APPLE VALLEY – Exceptional leadership and strong character are the qualities recognized by the National Wrestling Coaches Association (NWCA) in partnership with the United States Marines Corp. The 2023 Character & Leadership All-America Award, announced last month, went to Granite Hills wrestling champ Samuel Nunez for his team leadership and community service.
"I have had the privilege of coaching Samuel since he was a freshman in 2020 and have seen him grow from a quiet but hyper kid who was thrusted into the varsity position to a well spoken, engaging, and determined young man," said Granite Hills Head Wrestling Coach Kevin Clift.
Clift says the award honors individuals who go out of their way to support and lead their communities and teams. The award is a recognition from coaches across the nation for the individual efforts of wrestling athletes.
This season, Nunez had a 12-11 record overall with an undefeated 3-0 league record. He claimed the Desert Sky League Champion title in the 132 pound weight class. It was one of the two claimed by the team in 2023. 
Community Service
In addition to his team captain leadership role for the Cougars, Nunez worked 250 hours at Saint Mary Medical Center. 
RELATED: Lone Wolf Colony gruesome festival raises money for scholarships
Clift says Nunez is one of two recognized in the High Desert and among 1,076 wrestlers nationwide for the Character & Leadership All-America Award. 
Nunez finished his high school wrestling career and will be attending Cal State Fullerton to study Business.  
NWCA, established in 1928, is a non-profit organization for the advancement of all levels of the sport of wrestling. The primary emphasis is on developing coaches who work in academic environments.
For more information about the Character & Leadership All-America Award visit https://nwcaonline.com/news/2023/3/17/national-wrestling-coaches-association-nwca-announces-2023-usmc-high-school-all-america-teams.aspx