CALIFORNIA – Metropolitan Water District of Southern California (MWDSC) plans to begin piping purified sewage to 1.5 million Socal residents for drinking water by 2032. Under new rules, wastewater can be funneled directly to consumers after undergoing extensive treatment.
According to MWDSC, California has treated wastewater for drinking reuse for over 50 years. Prior to the new law, wastewater would go through an environmental buffer, such as a lake, river, or a groundwater aquifer, before the water is treated at a drinking water treatment plant. This is called indirect potable reuse (IPR).
Direct Potable Reuse
A new law created through SB 918, SB 322 and AB 574, established a framework for implementing direct potable reuse (DPR). DPR is the introduction of recycled water either directly into a public water system or into a raw water supply immediately upstream of a water treatment plant.
University of Southern California assistant professor of civil and environmental engineering Daniel McCurry cites water storage issues for the change.
"You don't want to inject this recycled wastewater that you've spent all this effort cleaning into a dirty, polluted aquifer just to ruin it again," said McCurry to CalMatters.  
Instead, state officials have been looking to implement a different approach to wastewater reuse. In 2017, they set a deadline for new regulations by the end of 2023.
A new water supply
Pure Water Southern California, a water treatment demonstration plant in Carson, says the program would create a new water supply.
For DPR to work, water treatment must be more extensive since purified sewage will flow directly into pipes. Chemical treatment will have to remove viruses, parasites, forever chemicals, and urine excreted anti-seizure drugs, pain relievers, antidepressants and other pharmaceuticals. 
According to MWDSC scientists and engineers are testing an innovative purification process at the Pure Water demonstration plant to ensure the treated water meets the highest water purification standards. 
Once built, the full-scale Pure Water project will purify wastewater that is currently sent to the ocean and produce high-quality drinking water.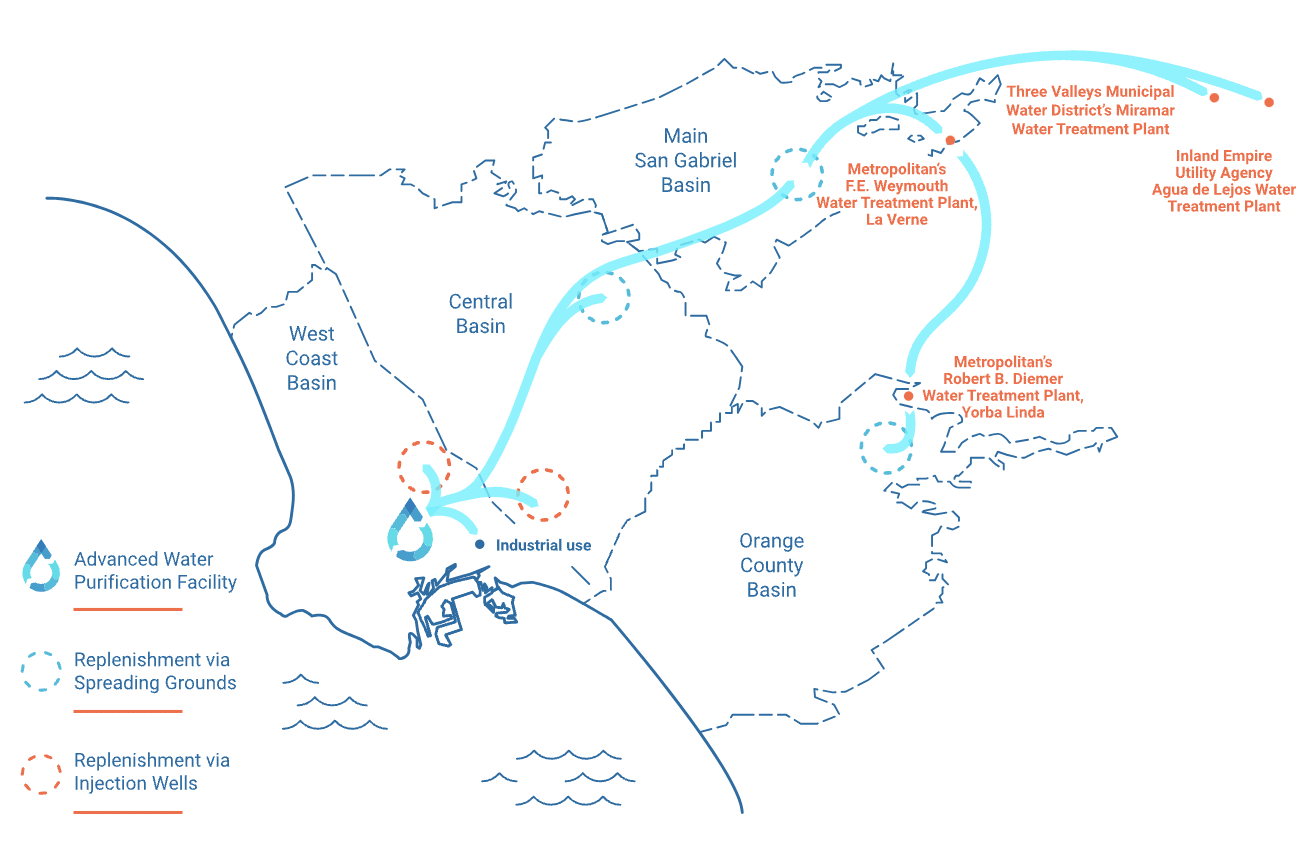 "The purified water will then be delivered through up to 60 miles of new pipelines to the region's groundwater basins, industrial facilities and two of Metropolitan's water treatment plants," says a June 2023 MWDSC news release. 
The state recently awarded Pure Water with an $80 million check to help create the new source of water.  Pure Water is in its environmental planning phase and could become one of the largest water recycling projects in the world. 
RELATED: CA Department of Water Resources to give 35% water allocation to 27 million residents
Future of Water
Last year, Governor Gavin Newsom called for doubling recycled water use by 2040. 
Other states including Colorado, Texas, Florida and Arizona have direct potable reuse systems in the works.
MWDSC estimated it would cost $3.4 billion for the DPR project. 
For more information about Pure Water Southern California visit https://www.mwdh2o.com/rrwp